The Golden Globes AND the SAG nominations are both out now, which means we can all sit back, relax, and dissect whether or not they stink.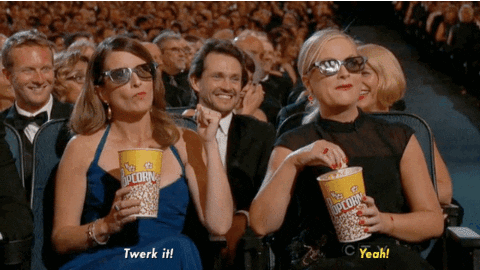 I love how the SAGs, despite coming later, sneak in that announcement a day before the Globes just to try and shoplift some thunder.
A couple points that leap out at me:
– I remain stunned that The Americans cannot even BUY any attention. (Is this because the world no longer accepts rubles?)
– Rachel Bloom getting nominated for Crazy Ex-Girlfriend is my FAVORITE of the Globes Gone Rogue beneficiaries. You could say she's filling the CW slot, but she ISN'T, because Gina Rodriguez ALSO got nominated again for Jane The Virgin. Seriously, though, while Crazy Ex-Girlfriend is not a perfect show (what is?), it's got a sneaky sense of mischief, and Bloom is charismatic and fantastic on it. So HOORAY. The CW must have thrown a good party this year.
– The three people who make up the Hollywood Foreign Press Association clearly ALSO got a GREAT gift basket from Starz, because a) Patrick Stewart got recognized for Blunt Talk, and while he is awesome, surely no one saw that coming; and b) Outlander's Caitriona Balfe and Tobias Menzies both got nominated (the latter less surprising to me than the former; Sam Heughan did AMAZING work on That One Scene Yes You Know The One, but when he wasn't getting brutalized in a variety of ways, I didn't think he was AS strong an actor as Menzies).
– People anticipated a push for co-lead Rooney Mara to get a supporting nod for Carol, so that she wouldn't siphon votes from Cate Blanchett. The Screen Actors Guild took the bait. But the HFPA was like:
So, she's a lead in one, supporting in the other. We'll see what happens with THAT.
– The five dramatic actress nominees may end up being the Oscar noms as well, because none of the comedy performances here seem likely to break in past any of those… UNLESS Mara gets booted to Supporting, but in that instance the Academy might put in Charlotte Rampling instead (the Academy loves a veteran, and by all accounts she deserves it for 45 Years). The only possible comedy intruder, I think, is Jennifer Lawrence. But the SAGs excluded her and her movie has received amusingly rotten reviews (even though she is supposed to be good in it).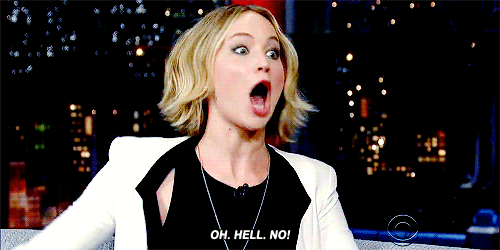 So… do we think Oscar will be too tempted by her pedigree, or leave her out?
– No Keaton, no Hanks, no Depp (which is fine because I assume the HFPA saw that makeup and decided Black Mass starred Ray Liotta anyway). Johnny did get a SAG nod, but the Globes booted him for Will Smith in the much buzzier and NFL-vexing Concussion.
– I have never heard of the movies Al Pacino (Danny Collins) and Mark Ruffalo (Infinitely Polar Bear) were nominated for in the comedy category. Are they reaches? Was the slate that thin? Or am I just out of it?
– Supporting Actress nods have Alicia Vikander, Helen Mirren, and Kate Winslet in common, but diverge with Rooney and Rachel McAdams (SAGs) and Jane Fonda and Jennifer Jason Leigh (Globes).
– The TV Comedy Series Globes nods went to one Netflix show, two HBO shows, two Amazon shows, and a Hulu Original. Imagine that. In fact a lot of the TV nominees are interesting. The SAG nominations feel a LOT more like the standard old Emmy contenders — Margulies, Danes,the dinosaur Modern Family, the dreaded Big Bang Theory.
– The Globes were NOT HAVING IT with Nicole Kidman in Grace of Monaco, but the SAGs went there.
– QUADRUPLE nominee Idris Elba (two SAGs, two Globes, not including his ensemble SAG nod)!
I'm just scratching the surface. You guys can take it from here.