This past weekend, I stumbled upon The Great Muppet Caper on cable, which to my mind is the very best of all those movies. I absolutely love it, and immediately scrapped any and all plans I had to move off my couch during those two hours. So it's highly apt that I just caught wind of Anna Cleveland in this elaborate creation, which looks uncannily like something Lady Holiday would've created in her froof-happy atelier.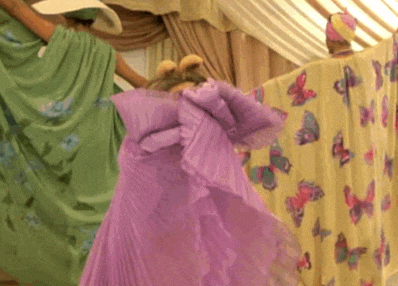 "And here's Audacious Anna," she would trill during her show. "Peering like a groundhog from betwixt a luxurious shrub of foliage, an explosion of summer that crowns her satin skirt and then unfolds into the soft manicured lawn of her train. Merci, Anna." I remember being so sad when I learned Fashion Week was not, in fact, narrated thusly. And then so heartened when for a brief period Posh Spice actually did orally present her collections. We could all do with a bit more Lady Holiday in our lives. And a bit more of her feckless brother Nicky:
"You can't even SING. Your voice was DUBBED" is a really sick burn. Just another reason Miss Piggy is the greatest love of all.
[Photo: WENN]