I've yapped about this on Twitter a lot, but to me, Lamorne Morris is a national treasure. With apologies for the photo, which is a weird angle because I wanted to showcase the shoes too:
If you're not familiar with him, Lamorne plays Winston on New Girl, a role that was created somewhat hastily after the pilot was shot and picked up with Damon Wayans Jr., who was then consigned back to Happy Endings — which had him in first position, as a pre-existing commitment — when that show did not get cancelled as expected. Winston therefore took awhile to gel and find his purpose on the show, but now he is an absolute delight, helped in part by the show seeming to shrug its shoulders and just throw shit at the wall and turn him into a brief festival of randomness. Like, "I'm pretty sure they call her 'The Fish' because she's tough, but fair, like a lot of fish I've met." Or his genius obsession with puzzles: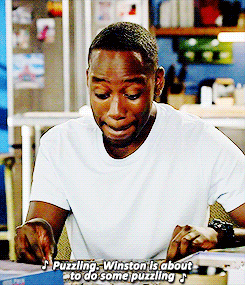 That experiment led to some great comedic moments and personality quirks that have gelled into a proper character, and none of it would have worked if Lamorne Morris committed any less than a hundred percent. Winston is SO GOOD. Not a pill like Nick Miller; not a narcissist like Schmidt. Just a generally good dude who's also a gentle nut.
Let's discuss. Not even just Lamorne Morris, but all the New Girl fans out there: Are you still with the show? It was up, and then it went so down; is it, for you, up again? I just made it sound like a viagra binge-and-crash, didn't I? That was unintentional.
At any rate: Discuss!